Keeping up with Facebook, Twitter, YouTube, LinkedIn, Pinterest, Google +, Vine, Instagram, and the other 100 social media channels that will be created this year is overwhelming. Most have a hard enough time managing their own Facebook profile, let alone that of their business as well. If you find yourself asking any of the following, some social media help from LoudSky may be in order.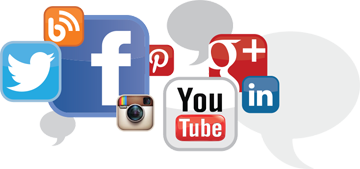 When should I post? How often do my Facebook fans want to hear from my business?

What should I post?

How do I change my picture? Or why does my picture look ugly?

Which social media channels should I have? All of them?

How do I keep track of all my logins?

What should I do if I post something that starts getting negative attention?

How do I find followers?
How Does Loud Sky Media Help With Social Media Management?
Our writing expert, Amy is also a leader in social media management and oversees social media channels for almost all of her writing clients. Amy can help you determine which social media channels are best for your business, and together you can decide whether you can handle managing some or all of them, or whether you'd like some help. In a sit-down meeting or a phone consultation with Amy, you'll go over your social media statistics, and filter through your current social media channels assessing each as you go along. You can ask questions. Amy will then put her mind to work coming up with the best social media options for your business with clear goals on how to build your online reputation over time.
Why Do I Need Social Media for my Business?
Frankly, any business operating without some social media practices is missing out. Social media builds brand awareness, and is a very cheap method to have your voice heard online. The combination of a good business blog and social media is crucial in this day and age. This is the basis that Amy has built all of her copywriting and social media work on:
High Quality Content
+
Engaging Customers through Social Media
+
SEO Efforts and Keywording
=
Better Brand Awareness and More Sales
The truth is that understanding the importance of social media is hard. It is rare that you see the direct impact of your efforts. But, keeping your business in the minds of your consumers is the goal, and social media channels offer a direct line to current customers and their sphere of influence. Word of mouth marketing is the best kind, and social media helps you develop a relationship of trust, knowledge, and personality with your customers.