Search engine optimization, or SEO, is the process of getting a website to rank high in organic (non-paid) search results.  The goal is to get on the first page of the search results because you know from your own experience you are not going to spend time looking at pages two to a zillion.
Search engines (Google, Bing, etc) have one goal and that is to provide the searcher the most relevant experience possible. If your typing in "dog kennels" in the search box and the results give you dresses, you might decide to use another search engine.
Before we get into the heart of SEO and why you need an expert let's take a look at what not to do in regards to SEO.
SEO can help a business but it can also hurt or destroy a business if done incorrectly.  Nobody can guarantee a search result ranking and if someone tells you they can this is a red flag to run away.  If you hear objectives been stated in a time frame like "in one month I will get you on the first page" run then run some more.  Another favorite is "I have a network and if you join my network that will give us more power, resulting in higher rankings" Remember relevance is key, so if your business is plumbing supplies and the network is about dolls, you think this is relevant?  It is the search engines like Google and Bing that would discover your SEO  "expert" is employing Black Hat techniques.  What are the penalties imposed, well the search companies could simply erase you from the search results or penalize you to the bottom of the pack.  Adios your business is now dead because you are no longer found.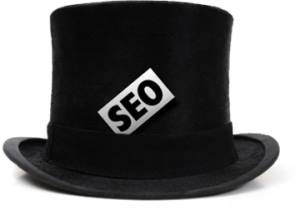 Black Hat, such a menacing evil term.  Here is what it means. Unethical practice to manipulate search results. Common terms associated with black hat SEO include.
Keyword Stuffing
Invisible Text
Duplicate Content
Doorway Pages
Spamdexing
Focusing on search engines and not the human audience.
Loud Sky Media does not use Black Hat techniques.
Lets look at what Loud Sky Media can do for you. We want all our clients to rank well in search results.  There is no secret recipe that accomplishes this so we follow a tried and true method that is accepted by the search engines.  Engaging in White Hat techniques is the only acceptable method.
White  Hat, this is what it means. The practice of following ethical and accepted SEO rules and policies.  The focus is on the human audience and not the search engine.  Both OnSite and OffSite SEO must take place.
On Site Optimization. It is so important to have your website optimized before engaging in Off Site Optimization. You want to start your SEO campaign on site. When properly done it will add to the relevance of the off site activities. Some of the Onsite terms
anchor text
keywords
meta tags
headings
site structure
Off Site Terms
keywords
backlinking
link building
link popularity
written content
We understand that this is a subject that can be quite complicated.  Budgets play an important part of any organizations decision on the extent of doing SEO.  There is no set rule of the amount of money an organization needs to spend in order to rank high.
There are times when Off Site SEO really does no good for an Organization and we will be the first to tell you this. If your industry or business is one which is very competitive and your budget is tight, you might never rank high regardless of what SEO techniques you use. This does not mean you have to give up it simply means we need to help you look at other ways to compete online. There is always a way and Loud Sky Media will help you understand all the different options.
Call or email us and we would be happy to have a conversation about SEO and what it could mean for your organization.
Having strong rankings for relevant search phrases can reduce the need for advertising.