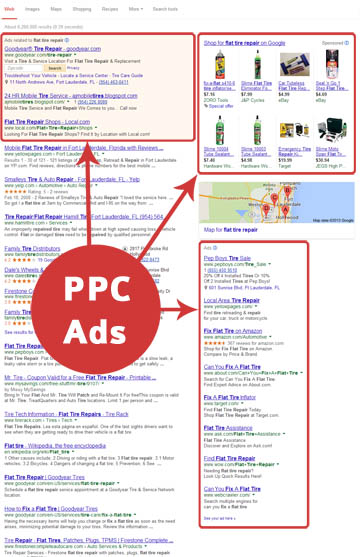 Pay-per-click advertising, or PPC for short, is a powerful method of delivering very targeted traffic to your website. It's not an easy task however, and we don't recommend trying this on your own.  The reason we are trying to scare you a little bit against doing PPC yourself is because every mistake costs you money.
Anyone who has ever typed words into a search engine knows the results are going to produce ads on the top or right side of the results page.  You type in "flat tire repair" and the results you see will include articles about how to fix a flat tire, but more importantly you are going to be shown ads that have products to fix flat tires. You will see local auto repair companies that want to fix your flat tire for you.
Why are you being shown ads? Well, the ads related to flat tire repair were paid for by companies that want your business.  In the simplest explanation possible, these companies compete with each other to be the most relevant. Relevant means position on page, the higher the better, and the frequency of the ads being shown.  These companies know you need help now and they are willing to pay using PPC to get your attention.
This all sounds real simple, but it takes a talented individual who knows the inside and outside of PPC.  Loud Sky Media can help you understand what PPC can do for your business.  We know this is a very complex strategy. We also understand that monetary concerns rank number one in the decision to engage in PPC or not.  Before a PPC campaign ever starts, we can walk you through the process and demonstrate what the potential outcome of a PPC campaign would look like. You want that person with a flat tire to click your ad – if they do, that means you have a service they trust or a price they are comfortable with.
Whether you are a mom-and-pop or a Fortune 500 company, Loud Sky can increase your ROI and bring new channels for revenue through PPC. We use advanced techniques such as re-marketing to visitors as they visit other websites, keeping your message fresh before them, and the opportunity to follow up with an action or purchase. Contact us to discuss how we can help increase your revenue through this channel.