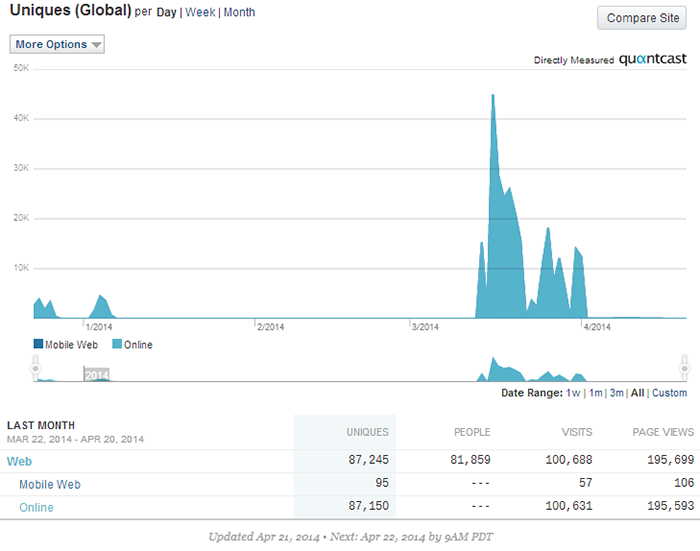 *The names of the LIN employees have been changed but the story is true to the core. Some of the links in this article no longer work, not because of us but because those companies took their sites offline, you will understand why shortly.
This is the story of what LIN Digital calls "Transparency" and why businesses should pay attention. It will be long, comprehensive and very detailed. The story is for those in the Digital Advertising World and those business owners contemplating a digital ad campaign. It won't be boring and it will be an entertaining read. At the end I ask one thing, share your thoughts.
The Beginning
It all started with a simple conversation at the 2014 Yard and Garden Show in Portland OR on March 1st, 2014. Craig Prunty, owner of All Oregon Landscaping, Inc. (www.alloregon.com) was at the garden show displaying his company's work (he won the top award for display, btw) mentions to me in almost a guilty tone,
"I signed up for an online advertising thing with KOIN 6".
Great, here we go again! WTF did you sign up for?
Craig is old school; he does not use a computer. You might find that odd, but it is very common to find business owners who have yet to embrace technology. Instead, they rely on others and trust in those selling online services. I have known Craig for over 20 years, both as a friend and as a business partner in Sports Turf Northwest (www.sportsturfnw.com) As a friend, I watch over Craig's website and make sure things are working. I also protect him from some of the things he has signed up for, because I am the one who has to undo them, and I do it for free. The last part about free is important because nobody asked me to do this nor was I paid to do this; I believe the small business owner needs all the help they can get.
Why was Loud Sky Media formed? Because of guys like Craig. Business owners are successful when they remain focused on what has brought them success. The Internet has forced business owners to learn and adapt to technology; if they don't, business owners must rely on individuals to provide service and proper guidance. I believe every business should have proper guidance and have that guidance explained in layman's terms. That's what I do, and I do it very well. In defense of my business, I will bust out companies that take advantage of those who are not technologically astute.
Individuals Involved
Myself (Mike Woelfel)
Chief bullshit detector, bad speller. Composer of emails that are sent to LIN Digital for myself and for Craig (he has no computer remember)
Craig Prunty
Owner of All Oregon Landscaping (www.alloregon.com) purchaser of the LIN Digital Custom Channel campaign. Kick Ass Landscape Design Company, tech skills not so much.
Julie Sievers
Administrative Assistant to Craig Prunty. The engine that makes All Oregon run and one who deserves a raise the most. The conduit utilizing tech for Craig.
Digital Sales Director "Bernie"
Digital Sales Director, LIN Digital
Senior Account Manager "Messenger"
Senior Account Manager-Messenger
Media General
Ticker symbol MEG, announced the purchase of LIN Media for $2.6 Billion dollars two months ago.
LIN Media
Ticker symbol LIN, parent company of LIN Digital
LIN Digital
LIN Media Press Release April 28th, 2014:
"The Company's (LIN Media) digital marketing services business, LIN Digital, launched its Video Insights Platform, a comprehensive, cross-screen video measurement solution that empowers agencies by providing all of the metrics and insights needed to evaluate true campaign performance in a single, powerful tool."
Small business owners get an Excel spreadsheet and a URL, sounds great. You will read about this shortly.
250% Revenue Increase from its 32 markets (Facebook Page) touts a robust reporting and tracking capability for its customers.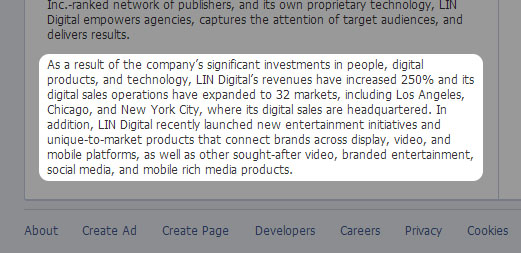 Here is what Craig Prunty signed up for, don't laugh it could have happened to you.
Insertion Order- Expandable banner w/video
Geographically targeted to households valued over $500,000
Ad shown on the LIN Digital Custom Channel of 99 websites only
571,429 Impressions (anyone ever play 52 card pickup?)
Cost $5000.00 bucks with a CPM of $8.75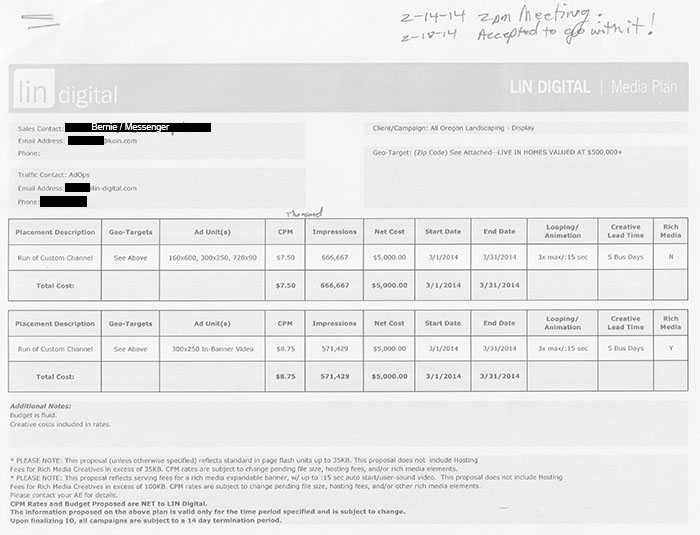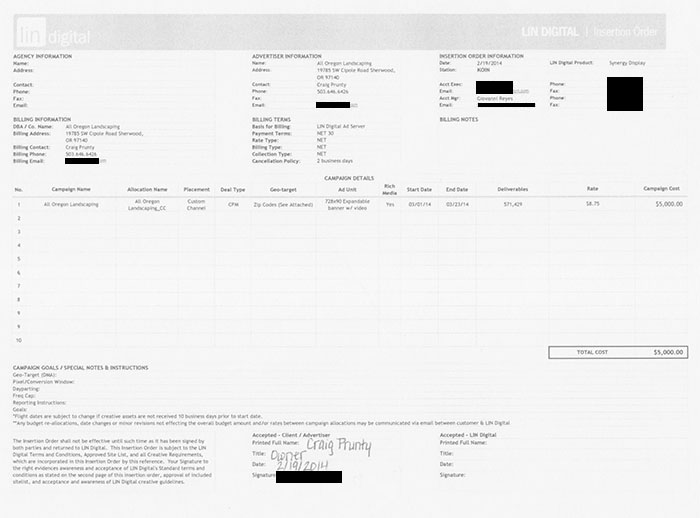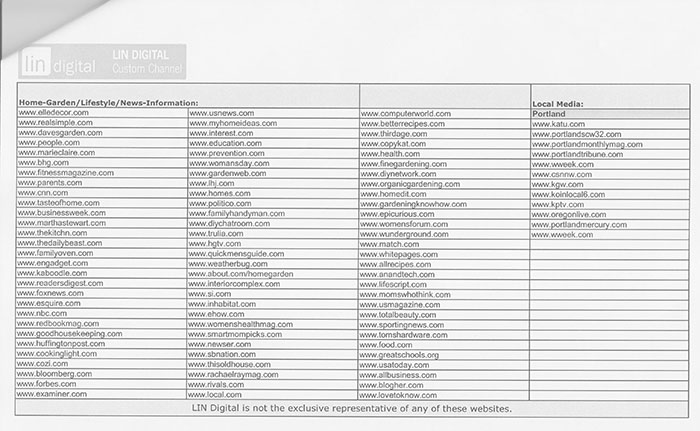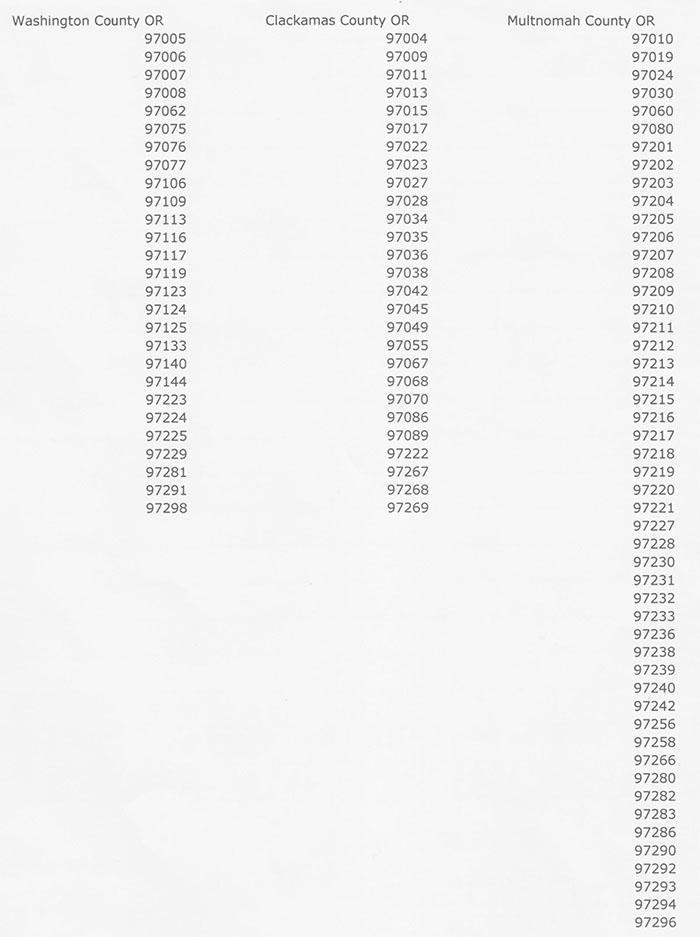 For those not familiar with the above terminology let me explain. Craig was sold an online marketing campaign. For $5000.00 dollars LIN Digital created a digital video ad (expandable banner) for Craig's company, All Oregon Landscaping. This ad is only to be shown on the 99 websites outlined by LIN Digital. The ad will only be shown in specific zip codes that contain household values of $500,000 or higher. The ad will be shown 571,429 times on any of the 99 websites. Craig in return gets ass kissing updates and an editable spreadsheet from LIN Digital as the proof that the ad was shown correctly.
I also need to explain what Impressions and Clicks mean. It will be important very soon in this story. Let's use an analogy. If a door to door sales guy (or insert your own hated door knocker here) rings your doorbell and you open the door that would be an Impression because you see him. If you open the door and punch the sales guy in the nose that would be both an Impression and a Click because something physical happened. In computer speak, if you see the ad for Viagra (Impression) on your screen and if you click on the ad, then that is a Click that gets recorded.
If you want to know how successful your ad campaign is you need to know the Click-through-rate (CTR). Telling a business owner the CTR means nothing to a business owner other than sounding important.
Impressions divided by Clicks=CTR
This CTR number comes into play shortly (more like self-congratulations by LIN Digital)
And the LIN Digital Ad Campaign Begins
March 3rd
Campaign goes live. "Messenger" from KOIN 6 emails Craig asking him to have his web person put a banner ad on the All Oregon's website. Craig emails me this request, I forward it on and it reminds me to start paying attention to this campaign.
March 11th
After seeing www.letsgogreencamping.com logged as a referrer to the All Oregon website many many times , I check out the website then email Craig. I ask Craig to get an update from LIN Digital asking for stats and figures. (It's really me asking the questions to LIN, last reminder on the email thing) A very important statement by LIN in their response email, they said 65 clicks so far and 15 were from yesterday (meaning March 10th) .026% CTR. I will repeatedly ask for the 15 clicks and will never be given the source. This is what the All Oregon site reflects.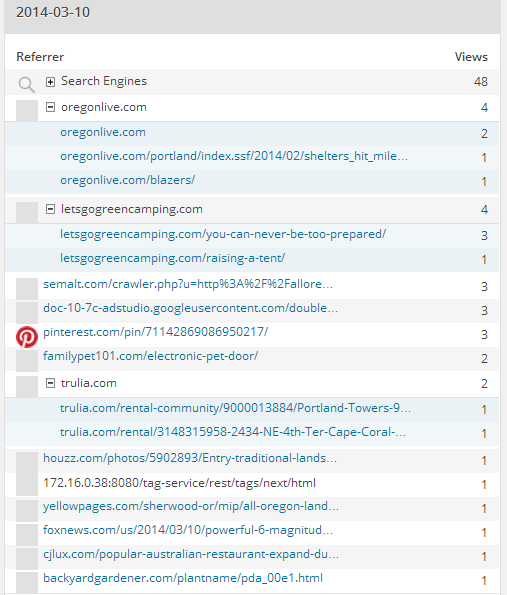 Bernie to Messenger –
"You nailed it Messenger"
Nailed what?

Messenger to Craig Prunty –
"Bottom line-everything is working as it should, if not better. Improving weather, longer daylight hours and continued optimization should all translate to clicks and RESULTS."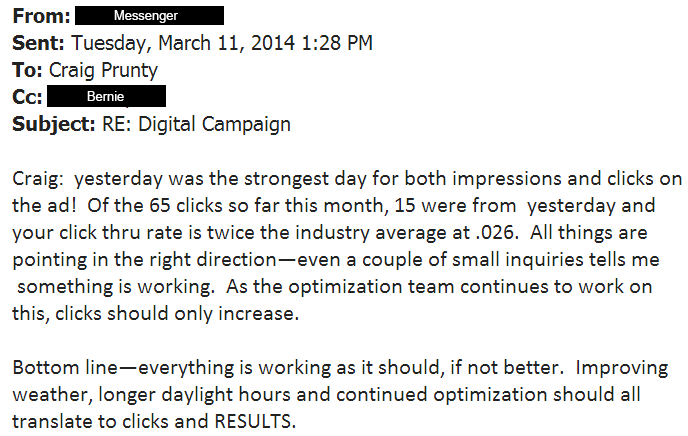 March 14th
Update from Messenger, 10 days in and tracking at .0275 CTR. Simply amazing results so far I must say. (sarcasm)
March 16th
The All Oregon website has spiked to record referrals. On this day www.finditinauto.com referred 71 times alone.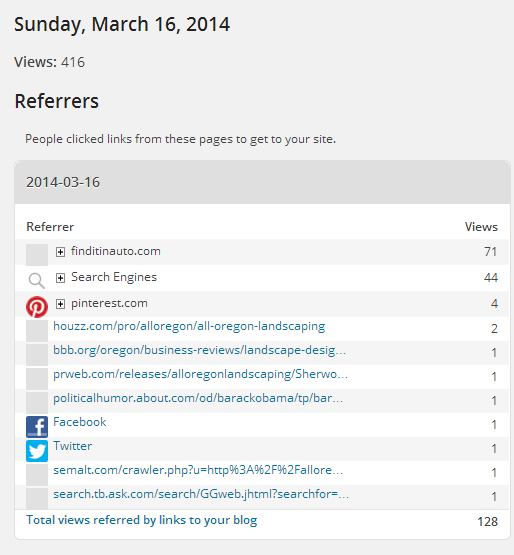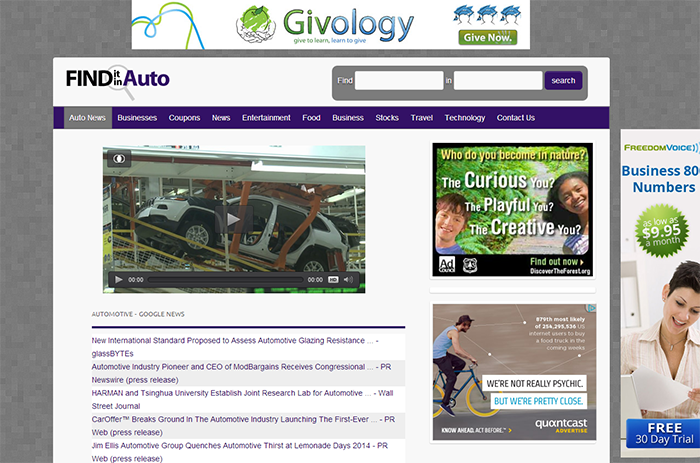 March 17th
First thing in the morning I call Julie and ask her to type in the website www.finditinauto.com I asked her what she sees. Julie says, "THE ALL OREGON AD". You read that correctly, the All Oregon Landscaping ad. www.finditinauto.com is not one of the 99 websites listed by LIN Digital. I was in Seattle at the time and because the ad was targeted in Portland I needed someone who was in the Portland area to view the website. Let the fun begin.
March 19th
It's time to start asking tougher questions, via Craig's email of course.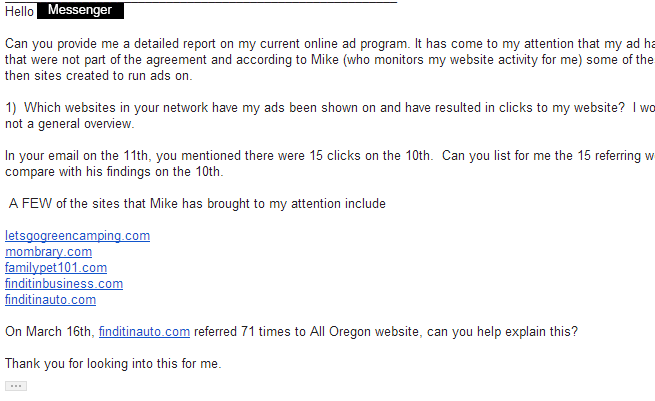 These are some of the other websites that started bringing referral traffic only during the campaign time period. These site have never shown up before or after the campaign time period.
Both www.finditinauto.com and www.finditinbusiness.com are owned by www.trafficninjas.com I will cover these three sites in detail shortly.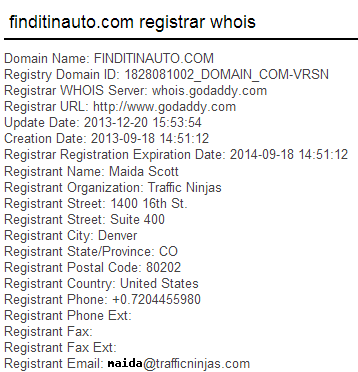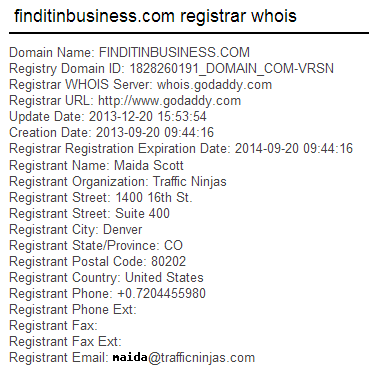 Messenger and Bernie have responded and can "GUARANTEE" (Messenger capitalized the word not me) the ad was not shown outside of the LIN Digital Custom Channel. They will call in the morning to discuss with Craig. That's nice of them.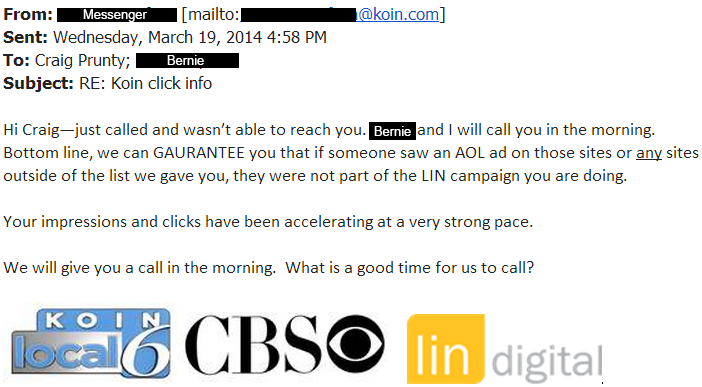 Messenger –
"Your impressions and clicks have been accelerating at a very strong pace."
March 20th
Both www.finditinauto.com and www.finditinbusiness.com were offline for the first half of the day. By the end of the day questionable traffic no longer is referring traffic to the All Oregon website. What an amazing coincidence, I ask about questionable traffic on March 19th and on the 20th the traffic is all gone. What an amazing coincidence.
March 21st
March 21st is a big day for back and forth emails. Messenger provides an update to the campaign for Craig. You must read the whole email, it's comical. Highlights:
523,862 Impressions
179 Clicks
CTR is .034% (3x the average)
Messenger highlights three reasons for the amazing performance of the campaign:
"Great Creative, thanks to the beautiful work AOL does"
"Every ad is placed above the fold, meaning that more people see it"
"Your ads all appear on sites carefully selected to reach affluent homeowners in the Portland market"
And now the previous capitalized "GUARANTEE" is now been changed to (highly unlikely, lowercase) for the ad being shown outside of the "custom channel"

March 21st – 2nd email exchange
I (Mike) call bullshit and email LIN Digital directly.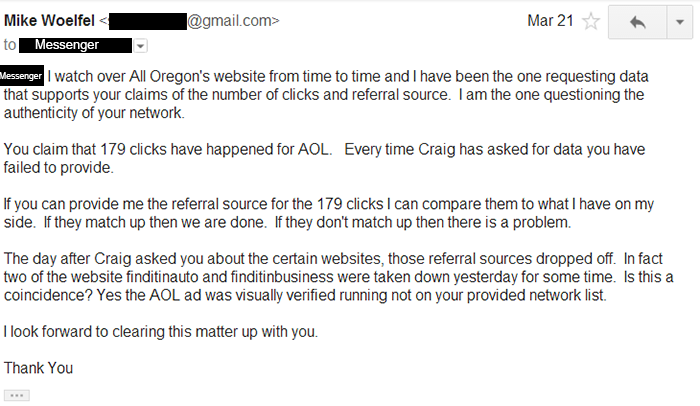 March 21st – 3rd email exchange
Messenger has responded to me and he is not happy, he uses CAPITALIZATION again. LIN Digital has highlighted in green 83 websites that the ad has been shown on. Remember 83, this number will be important shortly.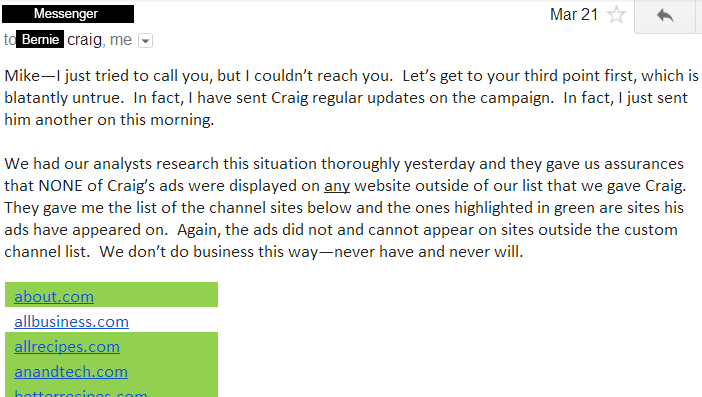 March 21st – 4th email exchange
I (Mike) call bullshit again and ask for specific data.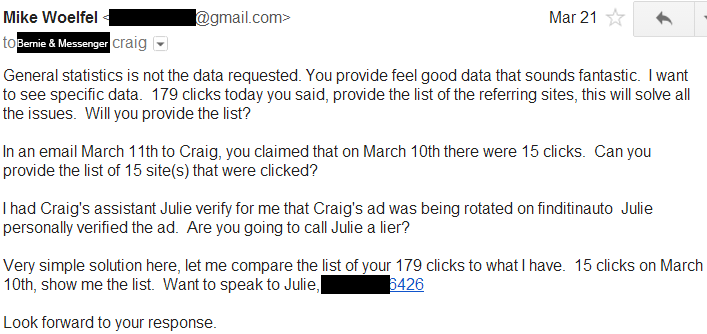 March 21st – 5th email exchange
Craig sends Messenger and Bernie an email making nice because of my previous emails. However, Craig tells Messenger and Bernie to assist me with my questions and concerns, which sucks for them.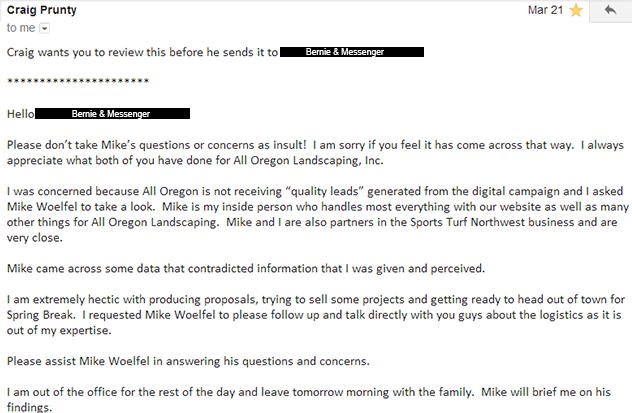 March 24th
You just have to read the email from Bernie – LIN Digital. Bernie provides three long pages explaining why they are UNABLE TO PROVIDE TRANSPARENCY. Some of my favorite highlights
Because the Ad Campaign was not $10,000.00. Well you sure as hell didn't explain this in the contract or in person. Bernie said he has only run 2 campaigns in the last year where the client required and paid for "back end" reporting. Well Bernie, you were copied in all the emails from the beginning so don't you think you would have offered this reason up when I first started asking for the referral data?
Bernie has been racking his brain as to why the ad seen by Julie was on a site outside of the custom channel (as well as his teams) – He ends this section with "but I suppose anything is possible in the wild west we call the Internet" What happened to the robust reporting and who is WE in the wild west?
He asks about re-targeting. All Oregon had one campaign prior to this one. I know every individual who has access to this site because I grant it. The individual who did this campaign guarantees he never used re-targeting or re-marketing code. Basic Adwords for dummies.
"The question about the 70+ referrals seen from the after mentioned auto website is even more puzzling" Hey Bernie, your company to afraid to actually say the real name of the website?
"Guys, I hope some of this info helps!" No you failed to explain any of it.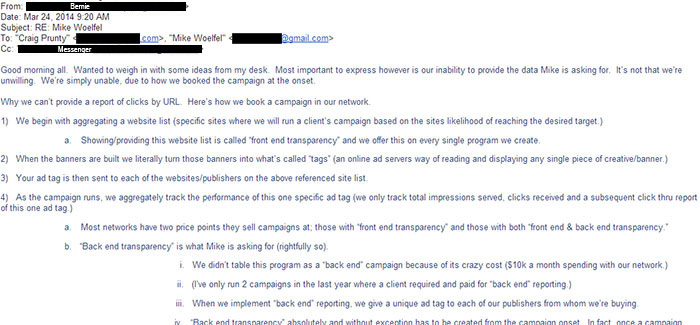 April 2nd
The LIN Digital Invoice has arrived (It's not even correct; $500.00 was paid in the beginning). In the email it said if there is any discrepancy to let LIN Digital know. HELLO, there is a huge discrepancy. Not only is there a discrepancy with the whole campaign but now Craig is asking LIN Digital (as he should) to pay for design work done to All Oregon as LIN Digital suggested in the beginning. Craig also is asking for a refund of $500.00 which he paid for at the beginning of the campaign.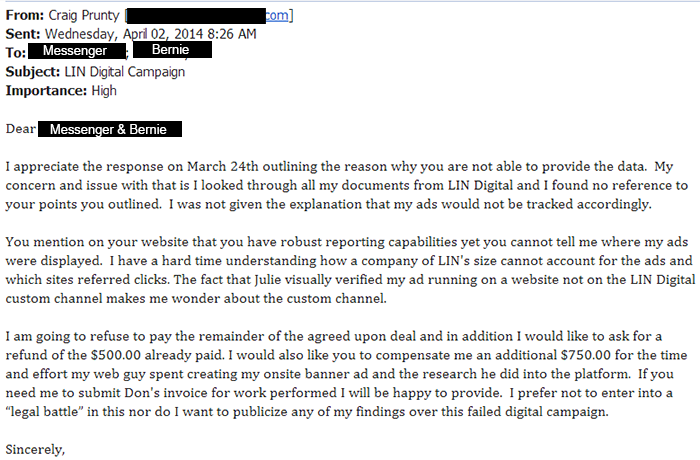 April 3rd
Messenger and Bernie email and say the VP of Sales for LIN Digital is aware of concerns but she is traveling back east but they will have a solution shortly. Who is the mystery female VP? Anyone out there want to share the name?

April 8th
LIN Digital has hand counted the impressions and have provided a spreadsheet. Are we in Florida and having a hanging chad sort of thing? They are missing 30 impressions but are waiting on Google and Double Verify (www.doubleverify.com) to report in. They had to "call in some favors". The creator of the April 8th spreadsheet is Director of Accounts, LIN Digital, Austin TX. How do I know this? Because the spreadsheet properties told me the author. Let's recap the current findings on the spread sheet LIN Digital provided.
LIN Digital reported 136 Clicks
LIN Digital provided a list of 28 websites the ad was shown on
Impression count was 571,399 (missing 30)
BIG PROBLEM. In the March 21st email, LIN Digital highlighted 83 of the custom channel websites the ad was shown on. On the spread sheet provided by LIN Digital on April 8th they highlight 28 websites the ad was shown on. What happened to the other 55 websites?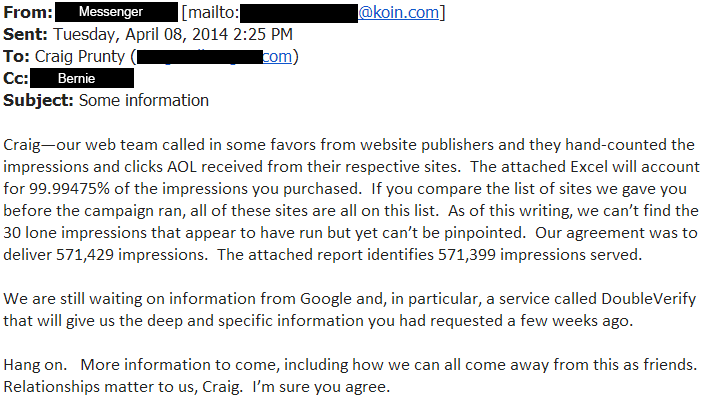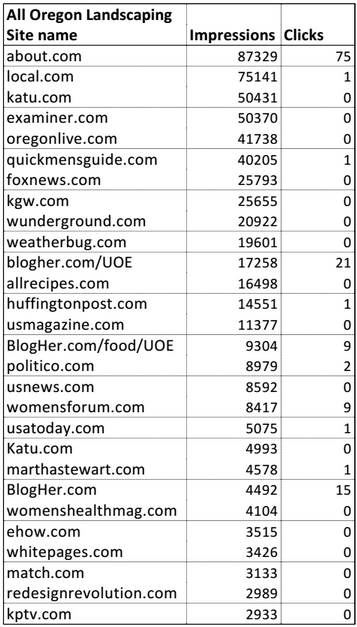 April 11th
LIN Digital says hold on; the team has been working on the missing 30 impressions for about a week now.
April 14th
D-day, the final report from LIN Digital is in. LIN Digital claims 100% accuracy and that the extra 30 impressions have been accounted for. Creator of the April 14th spreadsheet is the Senior Media Buyer for LIN Digital, Austin Texas. And what sort of documentation was provided by LIN Digital? HOLD ON THIS WILL BE GOOD
A URL to the Double Verify website-Yes that is all, a URL
Excel Spreadsheet (They screwed up on this again, see below)
Total bullshit about how All Oregon was lucky that LIN Digital looked into this because of the strings they pulled.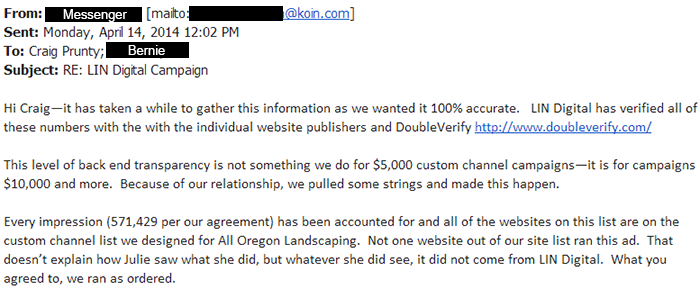 So now LIN Digital is sticking to the "we fulfilled our impression agreement." That's nice but LIN Digital you are the ones who in the beginning of the campaign started touting CTR. LIN Digital, you brought the data into play so now prove it. LIN Digital you messed up again. You forgot that you had to account for the 179 clicks so let me show you your mistake and it's a big one. From the Spreadsheet: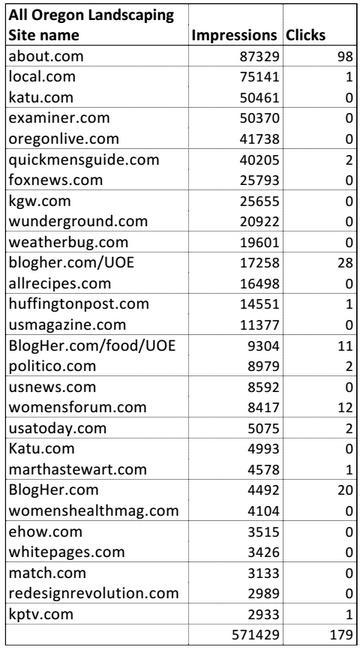 KATU.com got the final missing 30 impressions
You added in 30 impressions however you also increased the Click count by 43 from April 8th spreadsheet?
571,399+30=571,429
136 Clicks April 8th on April 14th 179 Clicks. That's a difference of 43. 13 more clicks than the 30 impressions you added. So where did you come up with the extra 13 Clicks?
Or another way, 136 clicks plus 30 impressions adds up to only 166 clicks. So 166 does not equal the 179 you claim.
| | |
| --- | --- |
| About.com increased | 23 |
| Quickmensguide.com increased | 1 |
| Blogher.com/UOE | 7 |
| Blogher.com/food/UOE | 2 |
| Womensforum.com | 3 |
| Usatoday.com | 1 |
| Blogher.com | 5 |
| Kptv.com | 1 |
| | 43 But you only added 30 Impressions? |
We will compare LIN "Clicks" to what I see shortly. LIN Digital, I believe you had to come up with 179 Clicks because this is the number you so boastfully shared on March 21st. LIN Digital your math is fuzzy.
Why LIN Digital's Explanations Are Lacking
Everything to this point is about what LIN Digital claims to have happened. Now let's take a look at what the All Oregon website shows. I will provide screen shots of what the All Oregon site says took place. I will also take www.finditinauto.com and break that down to a level that will tell a story LIN Digital should be embarrassed of.
Remember, LIN Digital verified everything on their side and came out smelling like a rose. When the LIN Digital Custom Channel campaign ended, I started making inquiries. The trail of inquires started with an article written by Alex Kantrowitz at Advertising Age (www.adage.com) Digital Ad Fraud Is Rampant. Here's Why So Little Has Been Done About It
"I'm Pissed": a quote by CEO Tom Phillip of Dstillery (www.dstillery.com) about ad fraud in Alex's article. Of course I am going to call the guy who is pissed, because that's whom I want to speak with. I need information. I never got to Tom, as my voicemail was probably more on the ludicrous side, but I did get a call back from another gentleman at Dstillery who provided me with the best advice, call Genie.
Genie Barton; Vice President and Director, Online Interest-Based Advertising Accountability Program & Mobile Marketing Initiatives – Council of Better Business Bureaus, Inc. Genie is great and she wields the big stick. You know when you feel comfortable with someone and you trust that something will be taken care of? That is Genie Barton.
In the meantime, I read another article that was written by Richard Byrne Reilly from Venture Beat. (www.venturebeat.com) Busted: Supercell terminates ad partner for sneakily reselling ad impressions
So let's look at the All Oregon Landscaping website data.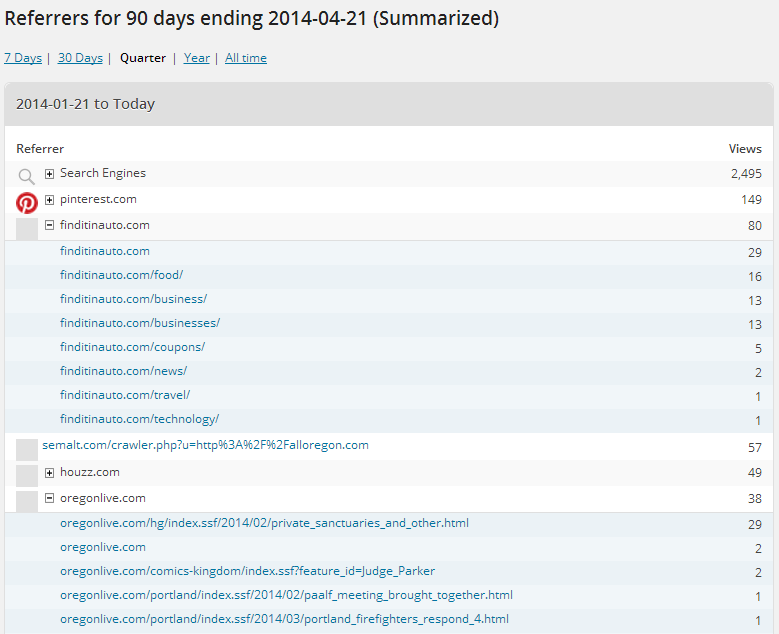 There are sites logged as referrers to the All Oregon site that could only have come from the LIN Digital Custom Channel, yet LIN Digital does not reference them on the list of 28 referring websites they provided on April 14th. Why? For example:

Weather.weatherbug.com
Smartmompicks.com
Oregonlive.com
Foxnews.com
Finegardening.com
Politico.com

Why can't I remotely match the sites and data LIN Digital provided to what the All Oregon website reports? 179 clicks, not even close.
Why did the traffic from all the questionable websites stop the day after I questioned LIN Digital about the integrity of their custom channel?
www.finditinauto.com this is the biggest fucking joke in the world; let's take a closer look. The website is built for ads, period. The website uses Google news to populate the different categories on the site. The contact page lists the phone number and address for Traffic Ninjas. This website logged 80 referrals during the campaign time frame. When you take a closer look at the domain registry, it comes up as www.trafficninjas.comTaking it a step further the www.quantcast.com report for Finditinauto.com clearly shows a website that was spiking during the campaign period. Nothing before and nothing after.
Julie Sievers visually verified the All Oregon digital ad being shown on www.finditinauto.com
The Insertion contract. This contract is void of terminology describing transparency reporting. There is none, zippo, nada zilch.
If you have made it to the end with me and have read the whole thing, you should take the rest of the day off. To the anonymous individual in Alex Kantrowitz's article who proclaims a bounty should be paid – send me an email so I can give you my address. As to future updates on this story, hit us up on Twitter because we are just getting started.
Sincerely,
Mike Woelfel-C.B.D